Join our campaign for fair tax for Scotch Whisky
Duty on spirits remains frozen, as announced in the Chancellor's 2021 March Budget.
Tax on Scotch Whisky in the UK currently stands at 70%, meaning around £3 in every £4 spent on Scotch Whisky in the UK goes to the HM Treasury in excise and VAT. In addition, Scotch Whisky is put at a competitive disadvantage compared to other alcohol categories because the tax system is "a mess", "incoherent" and "a complex – and arguably outdated – system of taxation." These are not our words, these are the words of HM Treasury Ministers, past and present. 
But it doesn't have to be this way. A reformed alcohol tax system can be clearer, fairer for consumers, make UK-based businesses more competitive and continue to deliver significant revenue to HM Treasury while protecting public health. This is the goal of our campaign to reform alcohol taxation in the UK. 
The UK's review of Alcohol Taxation
What is the alcohol duty review?
The duty review formed part of the Conservative Party manifesto ahead of the December 2019 General Election. For many years, the SWA has argued that the current system is unfair to Scotch Whisky and that the outdated system should be reformed. Last year we secured commitments from the Conservatives – as well as the SNP and Liberal Democrats – that duty reform should be a priority for the next government.
The Queen's Speech in December 2019, which sets out the government legislative plans for coming year, said that the government would "review alcohol duty to ensure our tax system is supporting Scottish whisky and gin producers and protecting 42,000 jobs supported by Scotch across the UK."
A year on, where are we with the duty review?
At the end of the first stage. In October, HM Treasury launched a 'Call for Evidence' and the SWA has submitted a response on behalf of our members. It is expected that this will be followed by a ministerial response, collating the various submissions to HMT, by early 2021 before moving on to a formal consultation by the Spring of 2021.
Why is the tax system unfair to Scotch Whisky?
The Call for Evidence says: "when compared on per unit basis the duty system as a whole is highly inconsistent." This is true - per unit of alcohol, Scotch Whisky - and other spirits – are taxed 16% more than wine (12% abv), 51% more than beer (5% abv) and 256% more than cider (5% abv).
You can see the unfairness to Scotch Whisky clearly in the graph below – it also shows that, under the current system, the tax on wine and cider actually decreases as the alcohol strength increases.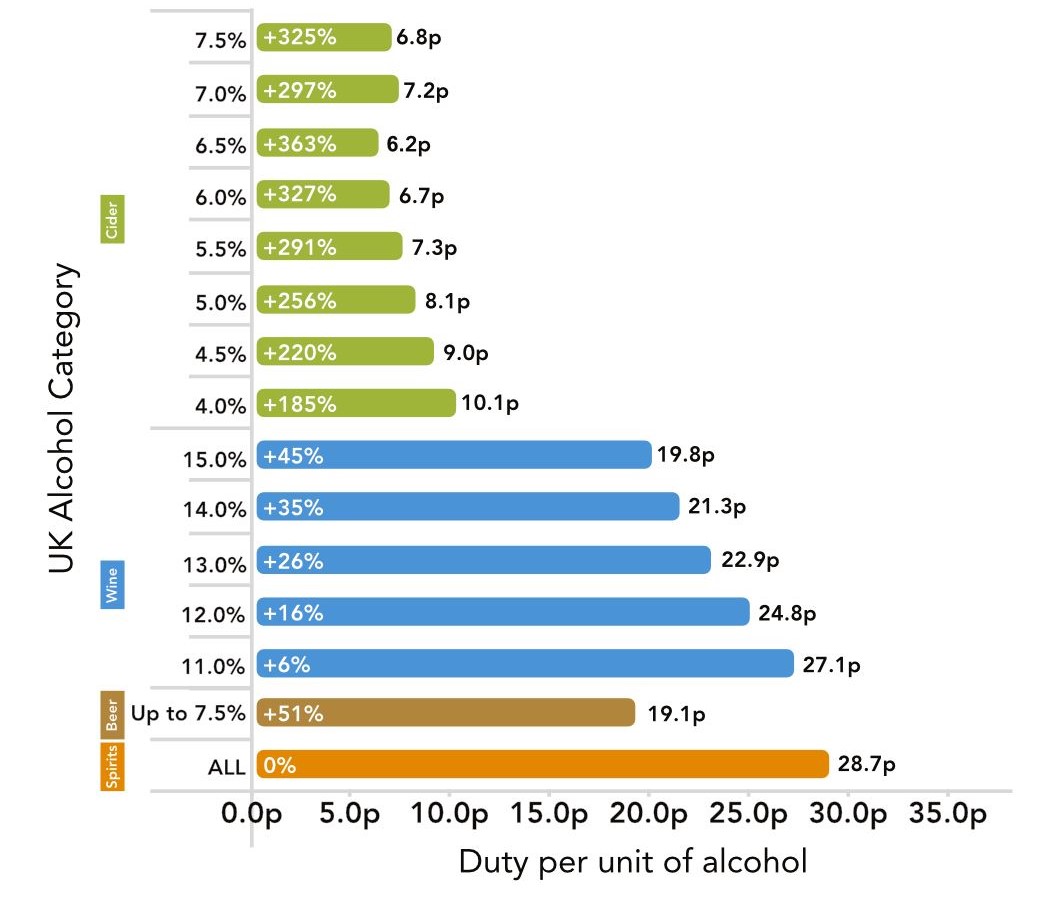 We think the reformed system should be clear for consumers and fair for industry. After all, the government's own Chief Medical Officers' guidelines on low-risk consumption say adults should drink no more than 14 units a week of alcohol. The guidelines do not discriminate between categories of alcohol, and we don't think the tax system should either.
Will a reformed system mean less revenue for government?
No. The SWA has submitted modelling to HM Treasury which shows that a uniform duty rate of 22p per unit would be needed across all alcohol categories to keep total alcohol revenue unchanged – and that the same rate of duty for all alcohol would have wider benefits to the economy, helping to boost the UK economy by £1.15bn.
Will other alcohol categories support reform of UK alcohol taxation?
As you would expect, there are differing views across different alcohol producers. Our argument is simple – alcohol is alcohol and should be taxed according to alcohol content, not manufacturing process, place of sale or any other factor.
We have held constructive meetings with other industry bodies and will continue to do so to identify areas of mutual agreement. We recognise that the reform process does not start with a blank sheet of paper and must recognise the various starting positions of the four alcohol categories. But removing anomalies and reducing the per unit differentials between categories, as close to zero as possible, should be the ultimate goal of reform.
Contact your MP
Find the contact details of your MP by putting your postcode into https://www.writetothem.com/
Your local MP is displayed, click their name
Copy and paste the suggested letter here – please change as necessary
Provide your full name and address – needed when contacting MPs
Send the letter to your MP via email
Tell us you have emailed your MP by emailing info@swa.org.uk so we keep you in touch with our campaign to end tariffs​
Tweet your MP
Find the twitter handle of your MP by putting your postcode into https://www.theyworkforyou.com/


Tweet them to let you know you #SupportScotch – remember to tag us @ScotchWhiskySWA
Some suggested tweets below:
The Scotch Whisky industry is the UK's number one food and drink export and a vital part of our economy.  I've just written to [insert MP's Twitter handle] to help ensure @RishiSunak and @hmtreasury use the excise duty review to #SupportScotch
The excise duty review is an opportunity for @RishiSunak and @hmtreasury to introduce tax fairness for consumers – the UK spirits industry, led by Scotch Whisky pays more tax per unit of alcohol than other drinks. I've just written to [insert MP's Twitter handle] to ask them to #SupportScotch
Vital the excise duty review is completed as soon as possible and that @RishiSunak and @hmtreasury support the vital Scotch Whisky industry– the industry faces US tariffs and high UK taxes, it's time to #SupportScotch - please back the campaign [insert MP's Twitter handle]
If you #SupportScotch, write to your local MP, use the hashtag on social media, and sign-up to get campaign news using the box below.